Overview
Bates labels are used by law firms and other legal entities to identify records obtained during discovery and other legal proceedings. Normally, the labels are numbered sequentially. The Claiborne Company Bates Label Document is a Microsoft Word document for creating Bates labels using a standard Avery form (5267, 5667, 8167, or equivalent. With the Bates Label Document, you have the option of including a code 39 bar code on each label.
The labels are printed 80 per page with up to 14 characters leading or following plus up to 6 digits. The label also can include the firm name and a date stamp or a code 39 bar code. When you open the Word document BatesXP.doc, the dialog below is displayed.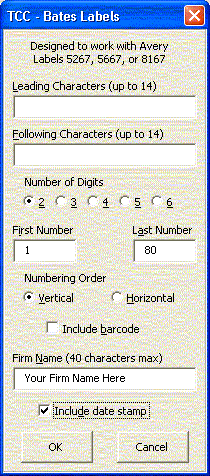 The original template, Bates.dot, was written in WordBasic and will work with either Microsoft Word 6 or Word '95. If you load the template into Word '97, Word 2000, Word XP, or Word 2003, it will translate correctly and operate without error. The original template does not have the bar code options or the numbering order option
The new version, BatesXP.doc, is designed only for Word 2000, Word XP, and Word 2003. The bar code font is embedded in the document, so there is no need to purchase a separate bar code font.
To register your copy of the Bates Label Template online, click here.
Alternately, send a check or money order for $29.95 to:
The Claiborne Company

2838 Coliseum Street

New Orleans, LA 70115-3307

United States
The check must be in US$ and must be drawn on a United States bank.
Information on quantity discounts (more than eight copies) and site licensing is available on request.